We have been juried into some of the finest art shows in the country where we have showcased our extraordinary jigsaw puzzles. We have met many jigsaw puzzle enthusiasts, and even some who have never seen a wooden jigsaw puzzle before, and thanks to us are now addicted. Bogarts Wooden Jigsaw Puzzles also takes great pride in giving back to communities and organizations. Many of our puzzles have been donated to these groups and as a result, they have raised thousands of dollars in contributions.
All of our hard work and dedication to the craft has paid off. We have a very loyal following which is constantly growing. Here is what they are saying about our wooden jigsaw puzzles.
What People are Saying
"We put the puzzle together at Jasper Park and they loved it and all the details!!! They asked me so many questions about the process (selecting the pictures etc.) and appreciated the artistry!!!It was fun for us to put the puzzle together with them. I was so happy they recognized the details and the uniqueness of the puzzle. They loved the special cuts - I am so pleased!!
Apparently the second puzzle was put together with the help of their daughter and grandchildren. They plan to make it a permanent piece of art after everyone gets the chance to assemble it. They were pleased and excited!!
It was great working with you and I would not hesitate to recommend you and Bogarts puzzles in the future!! "
M. A.
Dear Jay,
"Andrew loved his puzzle. All the adults loved it more however and immediately started putting it together with many comments on quality. We all enjoyed the different cuts and how pieces fit into each other.
Andrew brought it with him on Easter where a different group enjoyed it.
Andrew was so pleased to see himself appear in the puzzle and tells everyone exactly where he was etc. He also likes the special pieces. I put it together and he puts in the special pieces.
I think the adults were very impressed with the cutting style and could, of course, appreciate the artistry.
Again my many thanks for this wonderful puzzle which has already made people smile and enjoy a group gathering more than usual. I'm sure you will be hearing from me again."
Barbara Springston
FOURTH GRADE CLASS GIFT - BOGARTS WOODEN JIGSAW PUZZLE
"Unique. Extraordinary. Work of art. All words that have been used to describe the talents of Jay Hollis' work as the puzzle cutter and designer behind the Bogarts Wooden Jigsaw Puzzle. Using his talents as an architect as well as an artist, Mr. Hollis is well regarded in the specialized field of the hand crafted jigsaw puzzle.
For the class gift from the class of 2012, Mr. Hollis has used a group photograph of the current fourth grade and created an heirloom quality, customized 500 piece jigsaw puzzle. The materials used to create the puzzle are of the highest quality - the puzzle is made out of 1/4" thick plywood with a mahogany veneer backing.
Each one of the 500 jigsaw pieces has been cut free-hand, using an imported motorized scroll saw. As with all Bogarts Puzzles, whimsies (humorous or playful figures) have been cut into the puzzle to personalize it even more. There are over 25 "whimsies" in this particular puzzle of the fourth grade, all of which are specific either to Fay or to the class of 2012.
In addition to the puzzle, you will receive a custom-made box to store your puzzle in. The box has the silhouette of Bogart, the infamous Portugese Water Dog, embossed in gold and will also include a certificate signed and dated by Mr. Hollis, authenticating the purchase of a Bogarts Wooden Jigsaw Puzzle.
Lastly, did you know that the antique jigsaw puzzles we all admire today were made without accompanying pictures of the actual jigsaw image? In keeping with this tradition, a picture of the jigsaw puzzle will not be included with this puzzle...Good luck!"
Hello, Jay-
"I hope to start working on the puzzle this weekend. I love the signature piece and the presentation of the puzzle. I'm looking forward to working on it!
Please feel free to use the dog photos. They were taken by Barbara Almy. She said it was fine. Her dog Molly is the mother of my dog Sophie. After I told her about your puzzles she ordered one from you which she has received. I imagine you will accumulate quite a following among wooden jigsaw puzzle enthusiasts who are also PWD people. What a combination!"
Marietta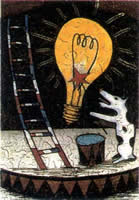 PIECES ON EARTH
"Wayland architect Jay Hollis began making jigsaw puzzles a few years ago, which he sells on the Web under the name Bogarts Wooden Jigsaw Puzzles. It's a fairly consuming enterprise, considering that each puzzle is made of mahogany-veneer plywood, each piece is cut by hand and the puzzles are signed, oiled like furniture, and contain custom "whimsies," or little figures within the puzzle. Hollis makes custom puzzles using a photograph, print or piece of art, but we recommend the gorgeous etchings by Norwell artist Peter Barger (shown Here), which Hollis buys and uses often in his work. Each puzzle also contains a whimsy representing Bogart, the family's Portugese water dog. Prices range from about $150 to a few thousand dollars. With pieces costing $2.00 each, an 8-by-10-inch puzzle would be about $200 and take six or seven hours to make. Says Hollis: "I make more money doing architecture, believe me." We believe him."
Vicki Hengen
The Boston Globe