Welcome to Bogarts Wooden Jigsaw Puzzles.
Bogarts Wooden Jigsaw Puzzles adheres to the highest standards of craftsmanship, emphasizing both the beauty and functionality in our exquisite wooden jigsaw puzzles. Heirlooms, treasured for their longevity and masterful level of detail. We create these puzzles in a manner consistent with our dedication to making the very finest wooden jigsaw puzzles available today.

Meet Bogart, our CEO, puzzle aficionado, and resident Portugese Water Dog.
Bogart spends most of his day assisting us in the workshop and greeting our guests and customers. A true puzzle enthusiast!
All our puzzles include a distinctive signature piece of Bogart in silhouette; signed, dated and numbered by the puzzle cutter.
Our wooden jigsaw puzzles are made by hand, one at a time with love, and great affection. Each and every piece is made with painstaking care and attention to detail; they are as unique as they are beautiful. Your Bogarts Wooden Jigsaw Puzzle will be enjoyed by all for many years to come. They are true gems in a world of mass-produced items.
Our puzzles are primarily geared toward adults, but can easily be adapted for children.
Our puzzles take on a life of their own.
Send us your favorite poster or print, or send us a personal piece of art work. Let it become a magical wooden jigsaw puzzle. Children's artwork make wonderful puzzles, a perfect way to preserve a memory.
Choose art work from our distinctive online graphics gallery. We represent nationally known artists whose work we have personally chosen to be used in our puzzles. Many images are hand signed and numbered by the artists. We have an association with nationally known print publishers and art galleries and can provide our customers with many unique prints.
As corporate gifts, create a puzzle using the company logo or designate a special recognition or achievement; a unique and creative way to promote your business.
Let our puzzles be made into unique wedding presents, favors, or invitations.
Create a surprise for a wedding, anniversary, birthday, Valentines day or even a very original wedding proposal (what fun as the puzzle emerges!)
We have the capability of digitally enhancing a photograph in numerous ways. Send us a color or a black and white picture of that special newborn child, a family portrait which spans generations, or even the family pet. We will create for you a unique and personal one-of-a-kind jigsaw puzzle, which will become a lasting family heirloom.
Bogarts Wooden Jigsaw Puzzles is a proud member of the AGPC (Association of Game & Puzzle Collectors) and the Benevolent Confraternity of Disectologists.
News and Events
Our puzzles are part of the permanent collection at the Strong Museum in Rochester, New York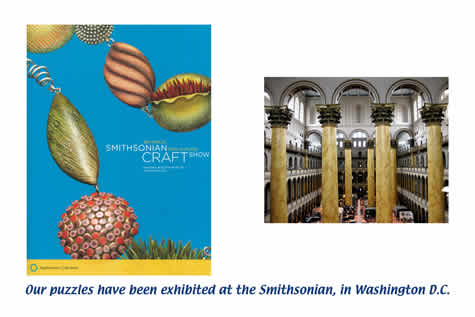 We are proud to have been selected to participate, and have our jigsaw puzzles displayed in the 2010 Smithsonian Craft Show, at the National Building Museum, in Washington, D.C. We were selected from a pool of over 1,300 applicants. 120 of the finest crafts people and artists in the country participated in this 5 day event, at one of the most prestigious venues in the country. This show was an enormous success for us, exposing our talents to over 10,000 visitors. We continue to get rave reviews from many of the people who now own and cherish a Bogarts Wooden Jigsaw Puzzle.